Bachat Gat are informal groupings of people that meet together to solve problems. While the term Bachat Gat implies an emphasis on the individual, one significant feature of self-help groups is the concept of mutual assistance — people assisting each other. Bachat Gat can be used for a variety of purposes depending on the situation and need.
How to form Bachat Gat (Self Help Group)?
Bachat Gat can formed by getting Registration certificate from local authority or Registrar. One can take help of Notary lawyer on formation of Bachat Gat by drafting Association Deed on Stamp paper and get it registered with government department.
What are goals of Bachat Gat?
Bachat Gat services are available in local areas for people with disabilities and their families.
Members of Bachat Gat gain information and skills that enable them to contribute to their families and communities.
People with disabilities and their families have access to mainstream Bachat Gat that other members of the community do not.
Bachat Gat create federations in order to become self-sufficient.
PAN Card for Bachat Gat
Once Bachat Gat is established, it will require a bank account to carry out any financial activities. In addition, a PAN Card in the name of the organisation is required to open any bank account in India. You can easily Apply for PAN Card of Bachat Gat online.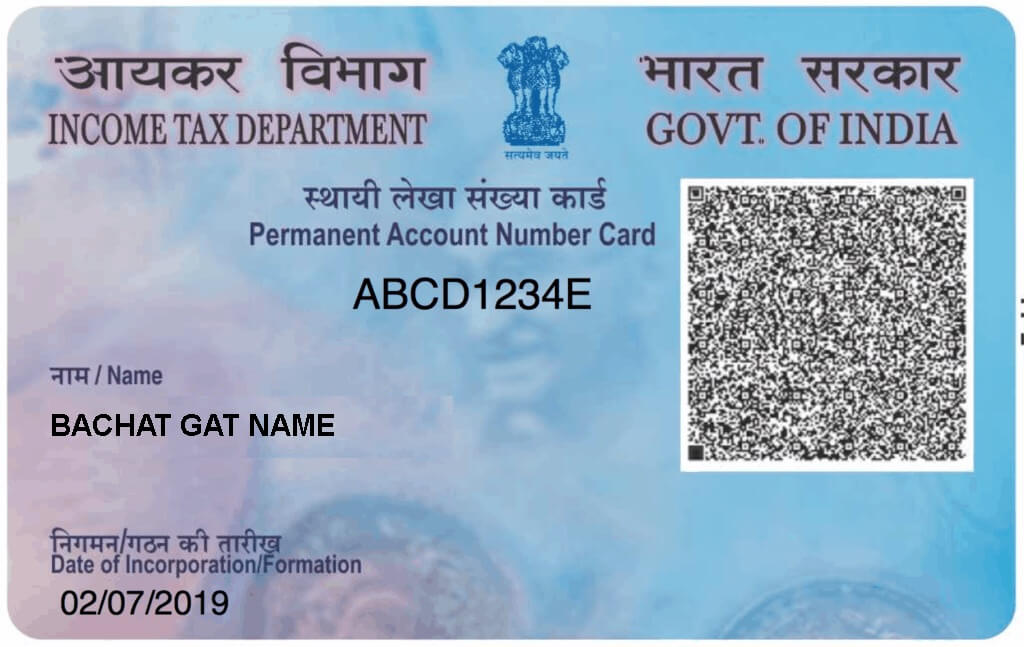 Process to Apply PAN Card for Bachat Gat
Let's go over the entire process of obtaining a PAN card for Bachat Gat.
Documents required for Application of PAN Card for Bachat Gat.
Any one of the following as Proof Of Identity:
Copy of Registration Certificate issued by Charity Commissioner
Copy of Bachat Gat Deed
Proof Of Identity establishes the name of your Bachat Gat which will be printed on Bachat Gat's PAN Card.
Any one of the following as Proof Of Address:
Copy of Bachat Gat Deed
Copy of Registration Certificate issued by Charity Commisioner
PAN Card will be sent on address mentioned in Proof Of Address.
Any one of the following ID Proof of any one Authorised Signatory who signs or have major share holding in Bachat Gat:
PAN Card
Aadhaar Card
Voter ID / Election Card
Passport
Driving License
How to Apply PAN Card For Bachat Gat Online?
After getting all documents ready, we are set to Apply for New PAN Card Online by following steps:
Step 1: Fill the Application Form
Open SHG PAN Card Form by clicking on below button:
A form will open which will like below image: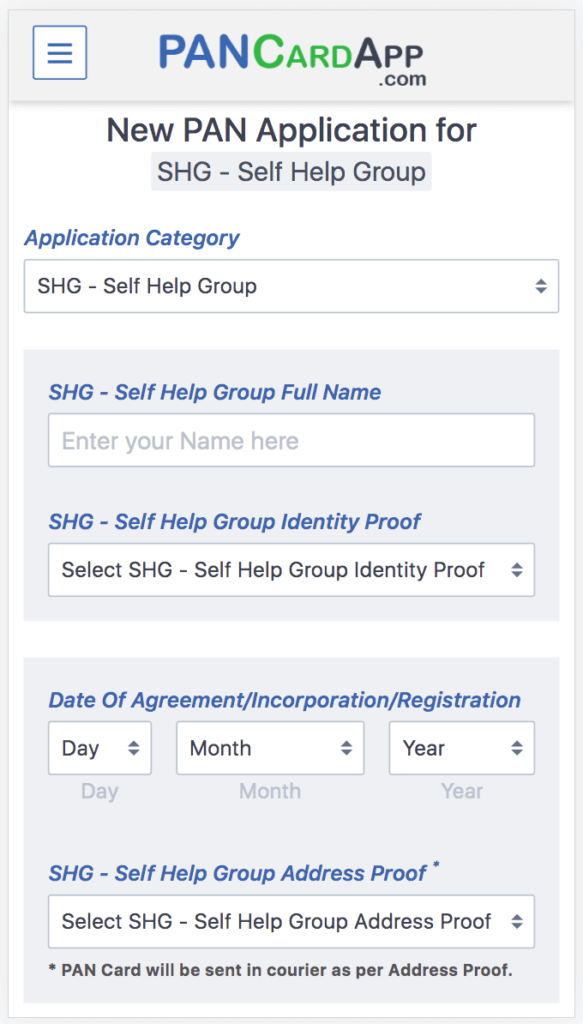 Now enter all details in Form:
Enter the full name of the Bachat Gat or SHG. This information will be printed on the PAN Card.
Choose a Bachat Gat Identity Proof, such as a Bachat Gat Deed OR a Registration Certificate, if one is available.
Now, choose the date that the Bachat Gat Deed is established or registered. The date appears on the Deed or Registration certificate.
Now, choose the address proof. Because the address is already specified in the Bachat Gat Deed, you can use it as proof. The PAN Card will be delivered to the address shown in the address proof.
You will also be asked to enter the Managing Member Name.
Enter your contact information, such as your phone number and email address.
Submit the form once it has been completed.
STEP 2: Upload Documents
You will be sent to the Verify Details Page after submitting the form. Re-verify all of the information you entered into the form. If you made an error while entering data, you can correct it by going back.
You can now go to the Upload Documents section when the data has been verified. It will like the image below: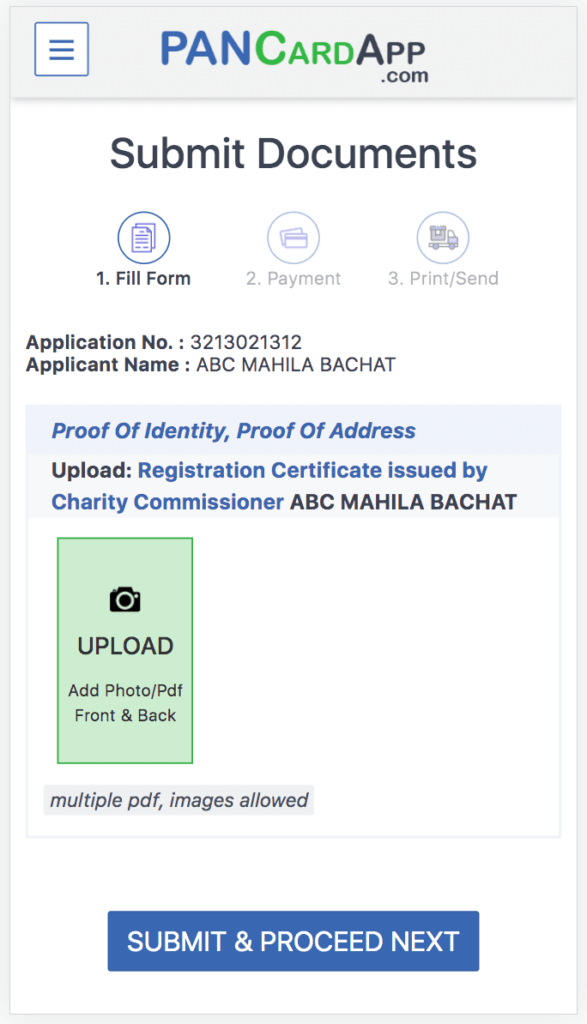 Upload papers in accordance with the proofs indicated in the SHG PAN Card Form. You can submit files in any format, such as photos or PDFs, or you can simply take a photo with your smartphone camera and upload it.
STEP 3: Payment
Submit your documents when you've uploaded all of them. You will be redirected to the payment page. Payment can be made via a variety of online methods, including wallets such as Paytm, Freecharge, Google Pay, UPI, and others, as well as a debit card, credit card, or netbanking.
Your application will be processed once payment is received. In general, it takes 7 to 12 working days to process a new PAN CArd application. However, you will receive a soft copy of your PAN Card, i.e. an e-PAN Card, in the email address shown in the Form that you filled out in Step 1.
FAQs
How can I create a Bachat Gat Deed in order to form a Bachat Gat?
Simply go to any Notary Centre and request a Bachat Gat Deed for your Bachat Gat. They will create the deed in the format required for the Bachat Gat deed.
Is the Bachat Gat deed required to be notarized?
Yes, the Bachat Gat deed must be notarized.
Who signs Bachat Gat's legal documents?
The Bachat Gat Deed should name one member as an Authorised Signatory, who is responsible for signing on behalf of the Bachat Gat.
What is the date of creation for Bachat Gat's pan card?
The date of formation of the Bachat Gat will be specified in the deed and will be printed on the PAN Card. If it is not specified in the deed, please include it.
Where will Bachat Gat's PAN Card be delivered?
The address from which Bachat Gat shall conduct its business should be specified in the Bachat Gat deed. The PAN Card will be delivered to that location through courier.
Will I also obtain a digital copy of my PAN Card?
Yes, you will receive your PAN Card in digital format by email.